Fire Pits | Midgett Concrete Construction, Inc.
Fire pits are great accessories for any homeowner's property, as they create a whole different set of activities for people to participate in. Fire pits are also safe places to light fires for those who like to have bonfires in their yards, or like to roast smores or other food on an open fire. Fire pits are also really nice places to sit with your closest friends and have a drink while enjoying the light and heat from the fire in the fire pit.
Click on any picture to view the full gallery in a larger format.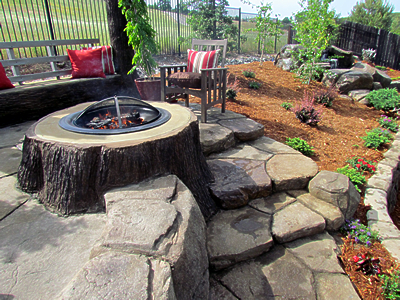 You can do so much with a fire pit; whether it is just hanging out on a nice summer night, or even a cold winter night that you need a big roaring fire to keep yourself warm during outdoor activities. Not only do fire pits serve a completely functional purpose, they are also highly aesthetic for the completion of a yard. Your home can only benefit from having extra decoration, especially when it is made by Midgett Concrete.
Fire pits that are built by Midgett Concrete are the best that you can find in northern Indiana. Each fire pit is created directly in response to the input gathered from our customers with the most appropriate materials and textures used to create your ideal product. From the variety of mineral, to the texture of the rocks, and the shape of the fire pit, we will manufacture your ideal fire pit and install it so that your property does not suffer from the installation of your new fire pit.
Our technicians and service people are expert in installing our concrete and rock products so there is no damage to your property, as well as creating a stable gradient for effective stabilization of the fire pit. When we are done, nothing natural will be able to move your fire pit and damage your lawn. We will ensure that your property is unchanged, minus the obvious additions.
Making A Fire Pit