Water Features | Midgett Concrete Construction, Inc.
Waterfalls are one of the more advanced and creative services sold by StoneMakers. They are unique creations that can help create a totally different atmosphere on your property. Whether you want something that gives a sense of the wildness of nature, or something more relaxed and serene, the waterfalls we obtain and can modify from StoneMakers are going to make a statement for you. These can be designed and personalized to fit any project, regardless of the scale involved. StoneMakers has even created a light-weight SGFRC mixture that allows waterfalls to be added to pools without straining the base materials that form the foundation of the pool.
Click on any picture to view the full gallery in a larger format.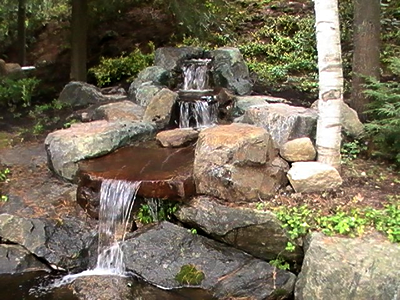 This means that your previously made accessories will not be negatively affected during the installation of your new decorations. In most cases, the project is completed and running on the same day that the project is completed. We want to provide the greatest amount of functionality as possible, so our clients can start to enjoy their new products as quickly as possible.
Waterfalls can be decorative, or even become home to a number of domestic type fish, like goldfish or guppies. Our waterfalls will create a new landscape for our clients to enjoy, while also providing a natural effect that makes it seems that your home is more natural that it would be otherwise. Landscapers and masons can use this technique to expand their services and provide more options to homeowners.
This will increase their business flow, as well as creating more happy customers, especially when a waterfall can be created for a reasonable price. Your home's waterfall is a call and a consultation away, and when we are called we will find exactly what you are looking for, and make it come to life.