Outdoor Living | Midgett Concrete Construction, Inc.
Everyone who has aspirations to make their home a beautiful place to live, and someplace that others will fall in love with then they visit should consider expanding the area they can work with. This means creating patio and porch areas for them to build new accessories, or expanding their existing porches and patios to accommodate their new plans. Our porches and patios are ideally suited to create new accessories on if the yard in unsuitable. We can install concrete firepits, or hot tubs, or waterfalls, or other accessories, like benches on them.
Click on any picture to view the full gallery in a larger format.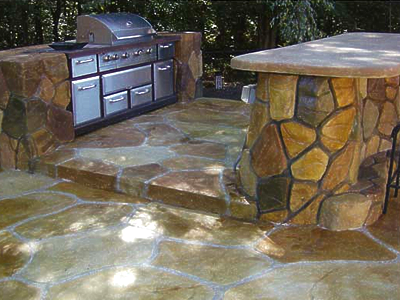 As well as patios and porches, we may even build concrete walls around your property if privacy is something that is needful to your ideal existence. If it is concrete, we will consult with you and see if it is something that we can build for you, but we will always try to meet the expectations and desires of our customers with minimal hassle and create what it is they are looking for in their homes.
Our service people and technicians will come to the job with a single goal in mind, and that is to create a well-made product for your benefit. Midgett Concrete's employees are all well-trained with years of experience creating concrete materials and products, as well as installing them with minimal disruption of their owners' properties. We want to ensure that the product is to the satisfaction of our customers', and to achieve that we work with them throughout the construction process.
This also requires us to consult with our clients as to where they vision each individual product going, so that it truly becomes part of their dream home. We make our clients' dreams come to life, and in northern Indiana you will not find anyone better suited to fulfilling property accessorizing needs.